Jefferson Lab Site Tour
Injector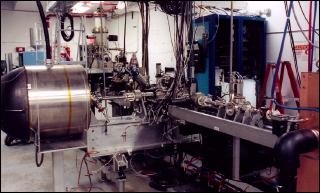 Where do the electrons in the beam come from? A device called the injector takes electrons off of atoms and spits them into the rest of the accelerator. Power to run the injector comes from the injector service building up on the surface.
You probably have an injector in your house. Can you guess where it is? Here's a hint: Without it, you might not be able to see this tour.
This tour reflects Jefferson Lab as it was in the late 1990s and early 2000s. In particular, this predates the 12 GeV upgrade and the addition of Hall D. For a modern look at the Lab, please see the
Jeffeson Lab Virtual Tour
.