Jefferson Lab Site Tour
South Access Building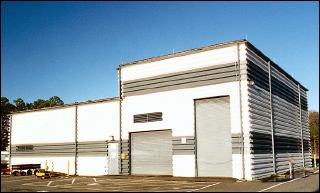 How do you get big things into the tunnel? Although there are ten stairways located around the accelerator track that people can use, there are only two places where large equipment can be brought down. The South Access Building is used to bring equipment into the South half of the accelerator.
This tour reflects Jefferson Lab as it was in the late 1990s and early 2000s. In particular, this predates the 12 GeV upgrade and the addition of Hall D. For a modern look at the Lab, please see the
Jeffeson Lab Virtual Tour
.