Jefferson Lab Site Tour
Virginia Power Substation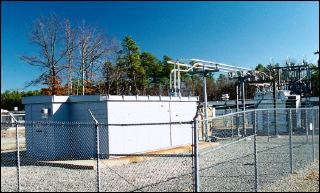 It takes a lot of power to run Jefferson Lab's accelerator and Helium refrigerator. Jefferson Lab uses about 30 million Watts when everything is running. This is enough energy to run about 10,000 houses!
This tour reflects Jefferson Lab as it was in the late 1990s and early 2000s. In particular, this predates the 12 GeV upgrade and the addition of Hall D. For a modern look at the Lab, please see the
Jeffeson Lab Virtual Tour
.